Sexual harassment guidelines and training report
Sexual harassment can disrupt the workplace and cause lasting problems for everyone involved. Not only can it lead to lawsuits and penalties, but it can also damage workplace morale, creating an unproductive, unpleasant, and sometimes even hostile working environment. Your employees need to know that sexual harassment violates your workplace polices and won't be tolerated.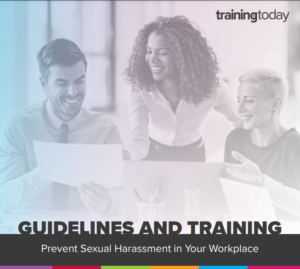 In this guide, you'll learn:
The state-specific and national requirements your sexual harassment training needs to meet; and
Who needs to be trained, how often, and how long trainings must last.
TrainingToday's sexual harassment training helps employees recognize, respond to, and prevent sexual harassment in the workplace and show supervisors the role they play in preventing sexual harassment and protecting the organization.