TrainingToday announced as a "Watch List" winner for Training Industry's 2022 top Online Learning Library Companies
Author: Business and Learning Resources
The learning experts at BLR® have spent the past few years fine-tuning the content and technology powering their TrainingToday online learning suite to become the go-to training solution for organizations both large and small. They are proud to announce that these efforts have resulted in TrainingToday being selected as a "Watch List" winner of Training Industry's 2022 Top Online Learning Library Companies in the L&D market.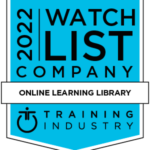 This selection was based on TrainingToday's having "strengths in various specialty topics, industries and supportive features" to help companies train their employees and create learner retention.
BLR prides itself on providing organizations with unique and interactive training solutions, supported by specialized course content developed by its in-house industry experts to meet the growing demand for high-level training. As Training Industry notes, its "Watch List" is intended to help buyers of training services evaluate online learning library providers, representing emerging or unique strengths and capabilities. Award recipients "bridge the divide between course providers and cutting-edge learning technology" that improves learner retention and closes employee skill gaps.
Specifically, TrainingToday offers course content in the following specialty areas:
HR Compliance
IT Software & Security
Leadership & Management
Workplace Safety
Sales & Service
Environmental Compliance
Mental Health and Wellness
Anti-Harassment and Inclusion
Beth Greene, BLR product director for learning, adds, "this award is a testament to the hard work this team has put into the development of this product [TrainingToday] and puts us on a path toward future success within this industry."
To learn more about TrainingToday and our course offerings visit our Employee Training page.
Click here to view Training Industry winners.
Previously, BLR's TrainingToday received awards as a Top 20 Company for Health and Safety/Compliance and in 2019 for Health and Safety Training.